Events with The Honourable Mark Holland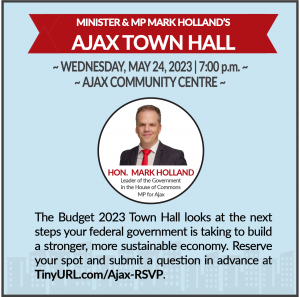 MINISTER & MP MARK HOLLAND'S AJAX TOWN HALL: BUDGET 2023 TOWN HALL
WHEN: WEDNESDAY, MAY 24, 2023 7:00 P.M. – 8:30 P.M.
WHERE: AJAX COMMUNITY CENTRE
The Budget 2023 Town Hall looks at the next steps your federal government is taking to build a stronger, more sustainable economy.
MP Mark Holland's Office Community BBQ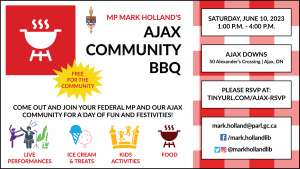 WHEN: SATURDAY, JUNE 10, 2023 1:00 P.M. – 4:00 P.M.
WHERE: AJAX DOWNS
MP Mark Holland's Ajax Community BBQ returns on June 10th! We are excited to join everyone once again for our free-to-the-community event filled with food, fun and festivities, including live performances and activities for kids.
We are looking for volunteers as Event Day Volunteers (registration, monitor booths/activities, etc.) If you are interested in taking part please register online: